The Benefits of Donating Blood
AAHWAHAN FOUNDATION (NGO) s is organizations that are nonprofits making, voluntary and independent of government, engaged in activities concerning various societal and developmental issues. The role of the NGO's during a disaster is to have quick response and to try and save as many lives as it can with the given funds. NGO's have a faster response to situations because it does not need to clear paperwork.. The main role performed by the NGOs were providing relief materials, organizing health camp, involved in rescue operation, arranging temporary shelters and so on. Friends and relatives followed by electronic and print media were the better source of information about occurrence of disasters. The study also found that the role of the NGOs in disaster management were providing relief materials, involvement in rescue operations, arranging temporary shelters; organize health camp and developing communication facilities. NGO also provided training and education to the children.
Odisha Flood
Our initial support has been through provision of dry ration, non-food household supplies, hygiene packs and water purification sachets and demonstration on hand wash with soap. Over 26,000 families in the affected districts of Ganjam,Gajapati, Balasore, Khurda, Puri, Kendrapara, Jagatsingpur districts, have been covered in the initial phase. Morever around 1200 children were part of the child-friendly spaces established by AAHWAHAN FOUNDATION in various relief camps.
While the relief response is planned for the first three months, the long-term recovery and rehabilitation of the affected families have been planned for 12 months, up to October 2019.
As the flood waters ravaged through settlements, several families have lost their houses fully or partially. After the relief camps were closed, many such families took shelter in their relatives' places, while others rented small rooms.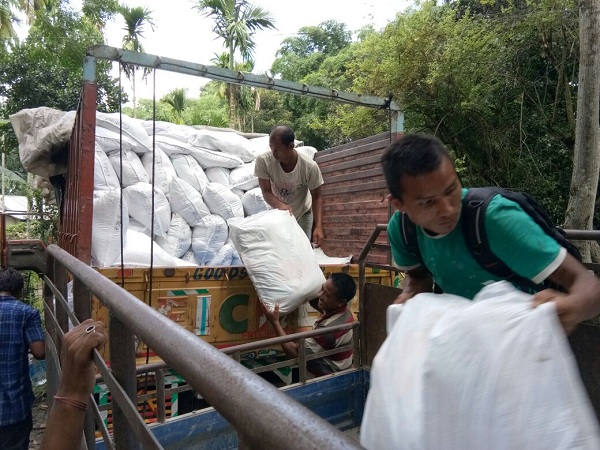 Realising that temporary shelter assistance is crucial as the government support will take at least one or two years, AAHWAHAN FOUNDATION has designed a low-cost temporary shelter model to help families have a place of residence. The first ever such transition shelter has been built for Mahendra and his family in Gajapati, Expressing his gratitude for the help he received, Mahendra said, ""I am so happy that we will be able to move here soon. We do not have to spend money on rent anymore. I can start working again and provide for my family." AAHWAHAN FOUNDATION has identified another 100 families in both Gumma and Paralakhemundi Panchayats, who would be supported with transition shelter.