COVID-19 Relief - Save The Daily Wagers And Migrant Worker and street Animal From Hunger in Bangalore, Delhi, UP, Noida, and Odisha
Aahwahan Foundation is a non-profit organization with a big heart that is committed to bringing about a paradigm shift to the NGO space through our selfless and sustained service to restore the socially backward community's dignity.
COVID-19 is spreading rapidly across the globe. Governments are devising solutions that can support humanity prevail through this challenging period. Lockdowns and social distancing have been put in place. The Government of India is playing a crucial role through its efforts to spread awareness and by initiating actions to combat COVID-19. It is equally vital for organizations to contribute to the fight against COVID-19.
The situation is grim in India, with more and more cases being reported by the day. The affluent sections of society have isolated themselves in their apartments, after the government's lockdown. Still, we have conveniently forgotten the backbone of the nation - the daily wage earners and migrant workers. COVID-19 has hit hard their daily income, and the lockdown has impacted their mobility.
Nearly 80% of India's workforce is in the unorganized sector. The paradox is that despite the country witnessing economic boom post-liberalization, these workers are not covered by any social security schemes, one of the greatest economic tragedies of our times. Their plight is heartbreaking. The lockdown has crippled the transportation infrastructure across India. Walking long distances from their workplace to their native village is not only a significant impediment but also can breakdown mentally even the strongest minds.
Traditionally, India's ethos has always been "Atithi Devo Bhava." Historically, we have welcomed outsiders with an open mind and given them a place in our hearts, supporting them to settle down and prosper. Tragically, today, the sons and daughters of the soil are helpless, defenseless, without access to food and water; they have become refugees in their country. Their condition should melt everyone's heart; it certainly has moved every volunteer at the Aahwahan Foundation.
At this critical period, civil society must come forward and support the daily wage earners and migrant workers. Your donations to the fund would assist long-term relief for the affected people. Individuals can also make non-monetary contributions – milk, bread, biscuits, rice, wheat, hand sanitizers, masks, etc.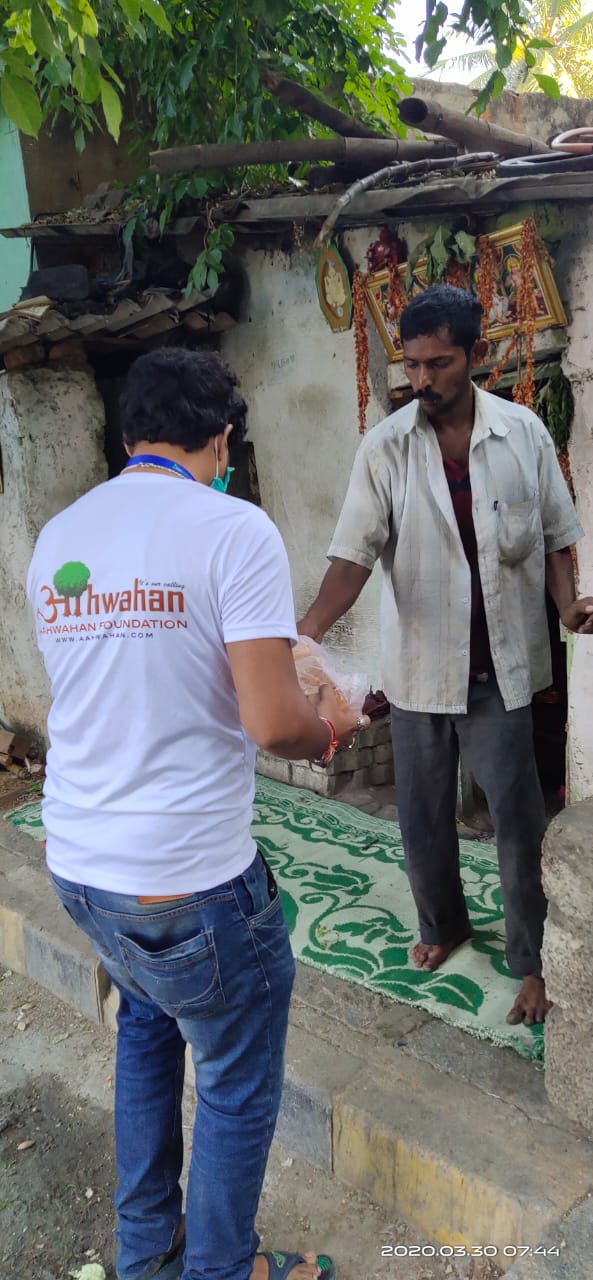 Aahwahan Foundation has delivered more than 2,00,000 meals and 10,000 mask and sanitizer to the the daily wage workers, Senior citizens,differently abled and single parents families to support them with cooked foods and daily rations,vegetables.
CSR to curb the spread of COVID-19
Recently, the Ministry of Corporate Affairs of the Indian Government has clarified that any expenditure of CSR funds for COVID – 19 is entitled to be considered a CSR activity. The factors behind this decision by the Government consists of the spread of COVID – 19 across India, the declaration by the WHO that COVID-19 is a pandemic, and the steps initiated by the Indian government as a response to a notified disaster.
Aahwahan Foundation would request companies to consider delivering relief and rehabilitation to individuals affected by COVID-19 with their CSR funds. As a country, we must be socially accountable while we also build our economy.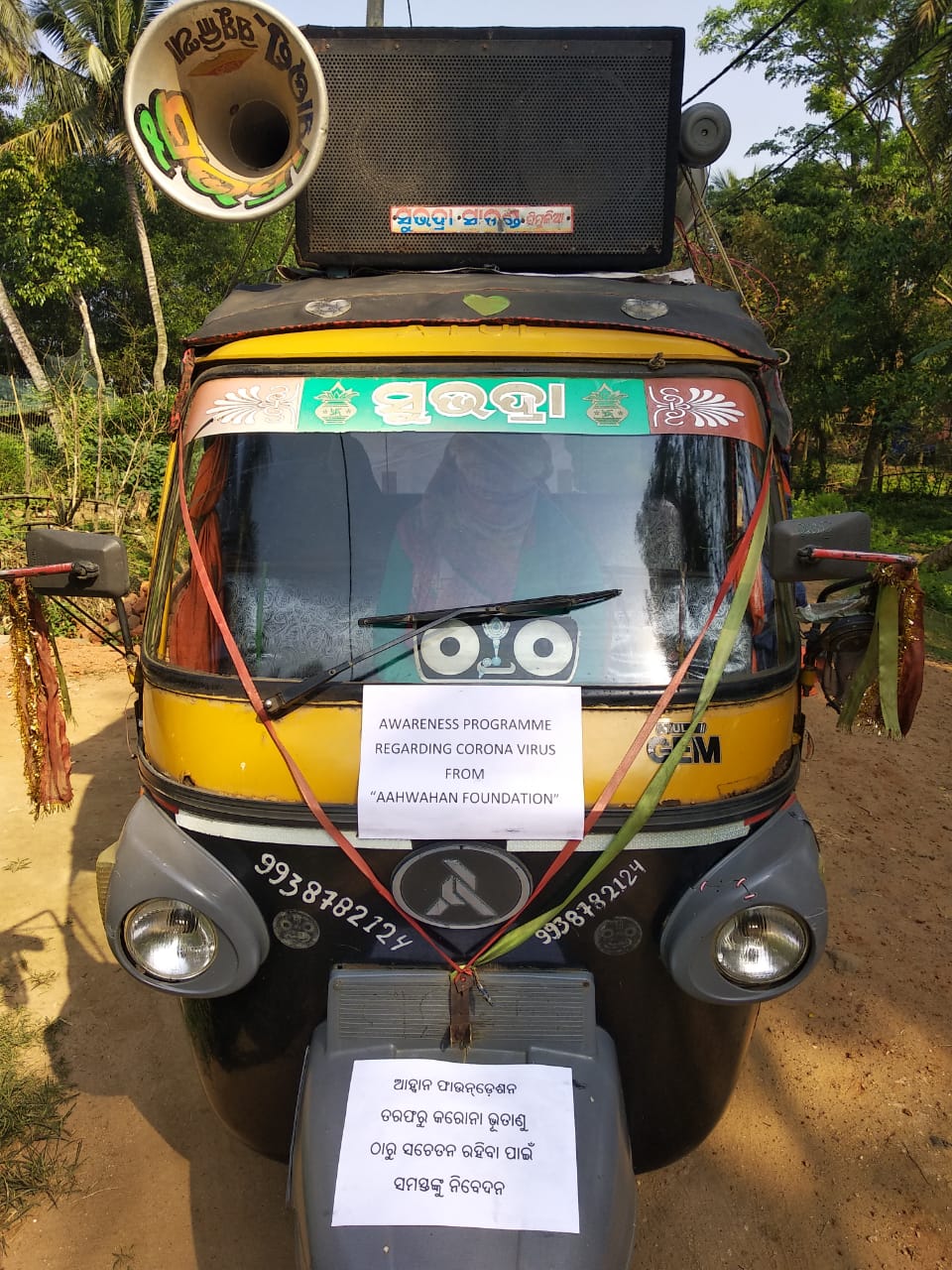 Existing best practices in CSR
Companies must adhere to CSR practices while implementing programs – medical assistance, awareness campaigns, and supporting health workers, assisting marginalized communities. The efforts of the corporate sector must be aligned with governmental initiatives, instead of making separate decisions on where the money can be spent.
CSR Projects
COVID Medicare Kit
Aahwahan Foundation has initiated COVID -19 awareness campaigns in various slums located in Bangalore. Our team performed hand washing techniques and cough etiquettes for daily wage workers and migrant laborers. Individuals were advised to adhere to the methods in their everyday life and wash their hands for 20 to 30 seconds each time.
Personal distancing is the most appropriate way to prevent the spread of the disease, and that is the reason for the Government to order a lockdown. We requested them to cooperate with the Government for the overall wellbeing of the community. Most COVID -19 cases do not require any hospitalization, and intensive-care beds fill. Individuals must be prepared to care for themselves with the correct supplies to nurse the sick patient and ensure the health of other family members. The COVID Medicare Kit would consist of a mask and hand sanitizer.
Healthcare Infrastructure
Mobile Medical Van
It is our latest service for rural healthcare. Hospitals in rural India are overburdened, understaffed, and ill-equipped. The doctor-patient ratio in India is less than the WHO prescribed limit of 1:1000. Our mobile medical van can provide cost-effective treatment to people in rural areas.
The mobile van consists of a driver, a nurse, and a doctor would visit one village per day and provide Outpatient Physical Therapy to patients in inaccessible rural areas. The schedule would be shared in advance with the villagers for better coordination. Through this innovative program, Aahwahan Foundation aims to bridge the gap between the acute shortage of medical care and service delivery in rural areas.
At present, the mobile medical van can be correctly used to fight against COVID-19. We can visit various slums in urban settings along with rural areas to conduct testing and refer any positive cases to the public health authorities.
Note: All your contributions come under the Tax Benefit Act. (80G)
You can donate through the below link:
https://www.aahwahan.com/Home/donation-details/6
http://impactgu.ru/aahwahan-foundation-38
Through Bank and Paytm :
AAHWAHAN FOUNDATION
A/C No: 041588700000185
Bank: Yes Bank.
IFSC: YESB0000415
Branch: Bannerghata Road, Bangalore
PAYTM: 7795065657